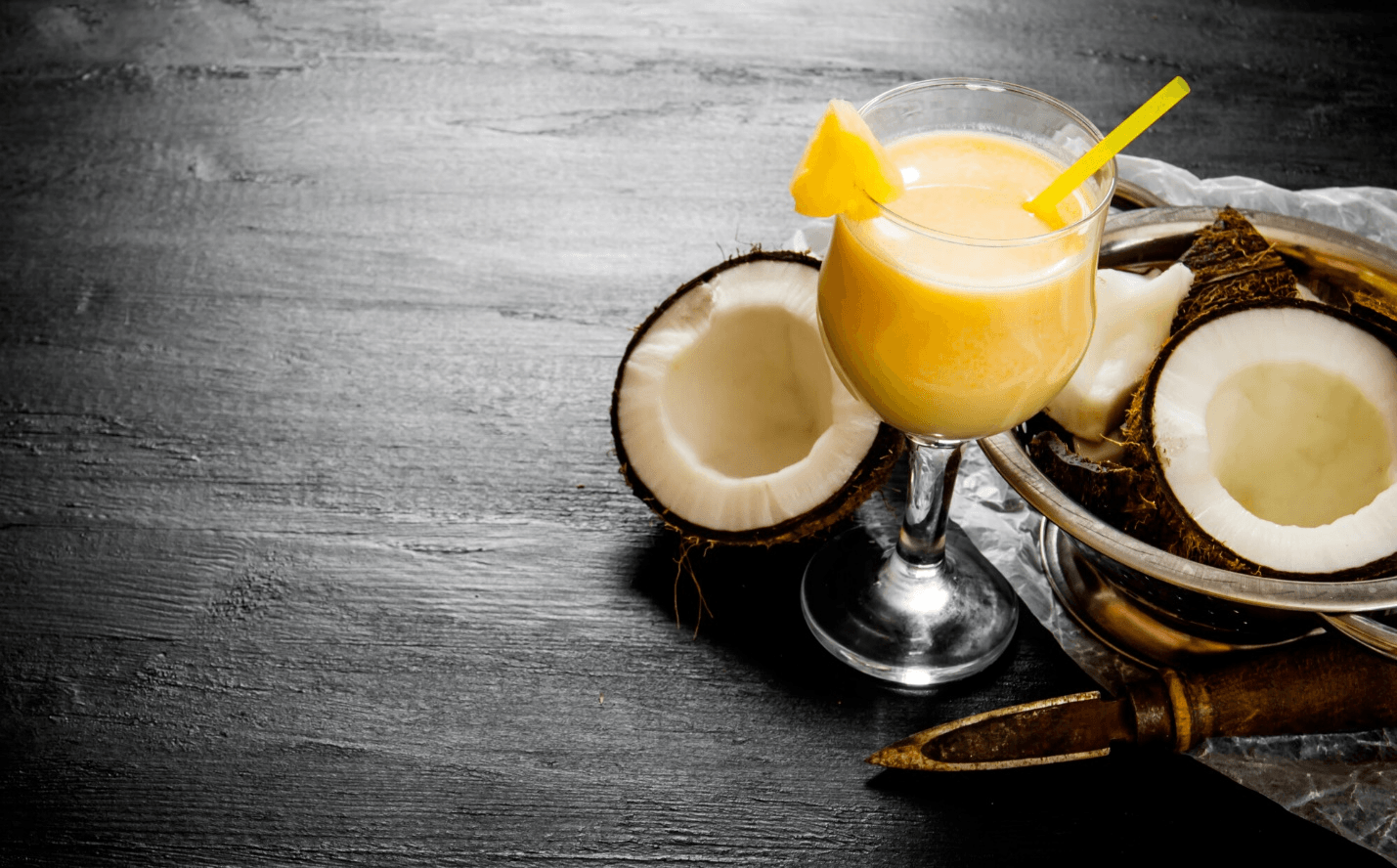 For some people, tropical drinks are a summer-only holiday indulgence. For others, they're an all-year-round necessity. If you fall into the second camp, you need a suitably tropical and summery rum to enjoy them with!
The best rum for pina colada depends on your tastes, of course, but there are a few that rise above the pack. In this article, we're going to cover our eight favorite types of rums. Expect a mix of well-known brands and lesser-known, off-the-beaten-path ones of which you might not have heard.
Let's dive in!
1. Bacardi
Bacardi has a light, sweet flavor that pairs perfectly with the pineapple and coconut flavors of the drink. It is the ideal choice for anyone looking to enjoy a tropical flavor combination without using up large amounts of alcohol.
The original Bacardi Superior is a great base for a Pina Colada. But for an even better-tasting drink, try one of the more specialized Bacardi rums designed for cocktails like Bacardi 8 or Bacardi Gold. These rums have been aged longer than the original, making them more well-rounded and giving them a fuller flavor.
The black rum varieties, like Bacardi 151, are also excellent. They can bring a lot of complexity and depth to the drink.
2. Cruzan Estate Diamond Dark Rum
This dark rum provides a strong, robust base that perfectly complements the classic flavors of any pina colada recipe. Aged for a minimum of four years in American oak barrels, the rum has a rich brown color.
It also has a deep and smoky flavor profile and features subtle notes of allspice, coconut, and oak. And the blend's malt and molasses notes give it a robustness that makes any tropical cocktail a showstopper.
3. Don Q Gran Reserva
Don Q Gran Reserva is from the rum-producing powerhouse Puerto Rico and is known for its complexity and elegance. This rum has notes of vanilla, toffee, and caramel, with hints of baking spices and a slightly smoky toasted oak finish. Its distinctive and unique flavor is the perfect complement of the natural sweetness of pineapple, coconut cream, and lime juice that a pina colada contains.
4. Hamilton Jamaican Pot Still Blonde
Hamilton Jamaican Pot Still Blonde is crafted in copper pot stills from molasses sourced from the same steady family farm since 1811. It has a light, golden brown hue and delivers complex, aromatic notes of spice, dried fruit, roasted nuts, and bananas.
The richness of the rum adds body and a pervasive sweetness to the drink. So it is an excellent compliment to the tartness of both the pineapple and lime. Perfectly balanced, its flavors linger on the palate long after each sip. A judicious mix of the Pot Still Blonde makes a pina colada that is hard to beat.
5. Malibu Original
Malibu Original has been a long-time favorite for pina coladas for its distinct Caribbean flavor. Made with natural coconut and cane sugar, it is both sweet and smooth.
Since it's a light rum, 80 proof, it's not too heavy on the alcohol, making it the perfect mixer for smooth and creamy pina coladas. It also adds a great depth of flavor that more expensive rums don't add, making it an economical choice.
Even if you don't like the taste of alcohol, Malibu Original is a great option since it has a mild taste. The company even has its recipe for pina colada cocktail, so you don't have to look far before making your pina coladas.
6. Plantation 3 Stars
Plantation 3 Stars is a great addition to elevate the usual pina colada flavors. This rum is aged for up to 12 months in American white oak barrels and is blended to produce a sweet and smooth flavor.
With notes of vanilla, citrus, and sweet molasses, this rum brings out the natural tropical flavors of a pina colada. The balanced sweet and tart flavors of the Plantation 3 Stars give the beverage an extra boost of flavor. At the same time, it still maintains its calm and refreshing character.
This rum has a great balance of aromas, and it maintains a smooth yet complex flavor profile. The Plantation 3 Stars is also quite versatile. Its superior quality makes it an excellent choice for a pina colada, making it one of the best rums for the job.
7. Santa Teresa 1796
Santa Teresa 1796 is the best rum for a pina colada. With an island provenance, it's supremely smooth and easy to drink, offering a perfect balance between sweet flavors and dry oak.
The flavor is just enough to impart a deep complexity to the drink while not overwhelming the flavors of coconut and pineapple. It also has a deep burn on the finish, which is nice in a cocktail that otherwise could be too sweet.
Aged for 20 years in agency white oak barrels, this Venezuelan rum has a golden amber color with aromas of butter and floral notes. It creates a beautiful and balanced cocktail, which makes it the perfect rum for a pina colada.
8. Ten to One White Rum
Ten to One White Rum is a multi-award-winning rum made from fresh cane juice in the Caribbean and is perfect for a tropical cocktail. The white rum blend contains nine parts of neutral rum and one part of agricultural rum from the island of Martinique. The extra touch of unrefined cane juice rum in the blend adds a depth of flavor and rich texture to the cocktail.
The aroma has notes of toffee, caramel, and vanilla, and the taste is slightly sweet with a light smoky finish. In addition, Ten to One White Rum is not overly sweet which gives pina coladas their desired perfectly balanced flavor. It's a must-have for any bar.
Finding The Best Rum for Pina Colada
With eight great options of pina colada rums for a perfect tropical cocktail, it's hard to go wrong. From sweet and aromatic to light and smooth, there is something to please each palate.
So why not try a few and decide which is the best rum for pina colada for you? Choose your favorite, take a sip, and enjoy!
Did you find this article helpful? If so, check out the rest of our site for more.